Throughout the history of the real estate industry, agents have been the Obi-Wan to homebuyers' Luke Skywalker — a trusted mentor and guide, leading clients through a scary and unfamiliar process to help them achieve their final goal.
But in recent history, the real estate game has changed dramatically. Millennial consumers are better informed and less trusting than previous generations, and they thrive on rapid communication.
Meeting the expectations of modern homebuyers and sellers has proven to be a massive challenge for many agents. And while the fundamentals of the agent-client relationship remain, the fact is you're still guiding buyers and sellers through one of the biggest financial transactions of their lives.
So, how do you rise to the demands of an increasingly informed, skeptical, and tech-savvy client base?
It's simple: Be transparent. 💎
Today, we'll peel back the curtain and show you exactly how it's done.
Ready to create an experience buyers and sellers will rave about? With Preclose GO!, communication is so simple and transparent, clients won't hesitate to send their referrals your way. See for yourself today!
Don't Underestimate the Power of Transparency


According to recent research, 86% of US consumers say transparency from businesses is more important than ever. But what does transparency even mean, exactly?
At its core, being transparent is all about openness, clarity, and honesty. It's about communicating proactively and being accountable to your clients.
With more and more information on home listing sites, and a plethora of other online resources, the industry as a whole has made significant strides towards being transparent. But there are still some areas that are a complete mystery to clients — such as the nuts and bolts of the contract-to-close process, or how agents actually get compensated.
If you're here, it's probably because you already know it's time for that to change.
Find out how million-dollar brokers like Steven Rovithis are using Preclose GO! to keep clients close (and happy!) from contract to closing. Use it free for 14 days!
Already, agents and teams who willingly step up and opt for transparency are seeing big results for their businesses, including benefits like:
More 'wow' factor. If you're like most agents, you might be tempted to keep your backend processes in the dark. But make no mistake: transparency in transaction coordination can create important revenue-generating wow-factor for your business. Clients who can clearly see the value you provide even after the deal is signed, and who trust you to take care of them (even if things don't go according to plan), will be sure to tell their friends and family about their experience.
More referrals. For many people, buying a home is a huge financial decision that happens in highly unfamiliar territory. By simply being transparent, you can help your clients fight the overwhelm and feel empowered through the process, leading to more trust (and more business).
Clear value. Invisibly taking care of things behind the scenes may be the norm in some service industries, but it's not advantageous in real estate. On the contrary, being upfront and transparent helps you demonstrate your skills so clients can see how hard you're working for them. And in the world after 2020, this is what matters most.
Faster, smoother closings. Transparency can help you manage your clients' expectations while also increasing their trust and confidence in you. As a result, you'll have fewer bumps in the road during a transaction — and when they do appear, your clients will be better equipped to power right through them.
Brand resilience. As you embrace transparency and consistently deliver it in your work with clients, it can become a central part of your brand. By showing up consistently from the moment a lead hits your database to the one-year anniversary of closing on their home, you'll become the agent of choice even in highly competitive markets.
More $$$. In real estate, the benefits of transparency can add up quickly. You get happier clients who are more willing to pay you what you're worth and more likely to refer their friends and family to you, all while building a leading brand in your market. All of that leads to more success (and revenue) for your business.
Better for the industry. The perks of transparency aren't just personal. Stats on consumer trust don't lie — and Realtors have ranked among the 5 least trustworthy professions. (Ouch, right? 😬) But the more agents make transparency a priority, the better for the real estate industry's reputation and the less likely you are to be outplayed by Zillow.
5 Easy Ways Real Estate Agents Can Be More Transparent


If you've made it this far, you're probably ready to:
✔ Earn the trust of high-quality clients
✔ Meet the expectations of modern buyers and sellers
✔ Deliver a better client experience than the competition
But how do you actually do that in practice?
Here are 5 easy tips to help you infuse your client interactions with transparency.
1. Answer questions fast and fully.


Most clients have a lot of questions, especially if they're first-time home buyers or sellers. But things that may seem basic or obvious to you may be totally new to your clients, so you may need to explain in greater depth.
A good practice is to end your response by asking, "Does that answer your question?", "Does that make sense?", or "Do you have any other questions?" Keep going until they understand, they'll thank you for it later.
In Preclose GO!, you can add custom templates that are attached directly to a specific task in your checklist. Just click the email icon, and your email will automatically populate. You can even auto-calculate the dates and deadlines that go into each email using our super straightforward 'date rules'!
2. Share proactively.


The truth is, many clients probably don't know what they don't know. So you may also need to identify opportunities to provide transparency, rather than waiting for them to come to you. Plus, your clients will appreciate it if you can anticipate their needs and help them understand the next steps in a transaction.
And let's face it, there are also some things you just know people are going to ask about.
For example, some states require buyers to pay a due diligence fee to the seller once a property goes under contract. Agents in these states know that out-of-state buyers may not be familiar with this fee, so they might prepare an info sheet or standard email to explain how it works.
By proactively sharing this information, they help their clients prepare for that step ahead of time to keep the process moving smoothly on all sides.
With the Preclose GO! Ultimate Client Experience dashboard, you give your clients total visibility into dates, documents, details and contacts to help them feel fully up-to-speed and empowered the whole way through.
3. Admit mistakes.


Everyone goofs up sometimes. But whether yours is a minor blip or a major blunder, it's better to be honest about it rather than trying to cover it up. While you may be able to fix the problem before they find out, be cautious as that can create even bigger problems down the road.
If the situation calls for it — let's say you cause them to miss an opportunity or delay their closing — own up, apologize, and make up for it with an extra-special closing gift.
4. Know your worth.


While we hope that all of your clients respect your skills, expertise, and effort, the fact is that most professionals in a commission-based role will face customer skepticism at some point or another. (This can be a particular challenge if you're working with clients who take a DIY approach to their home photography, sharing their listing on social media, or other tasks.)
But you shouldn't be afraid to be straightforward about why the service you deliver is worth it — just make sure you deliver on that promise.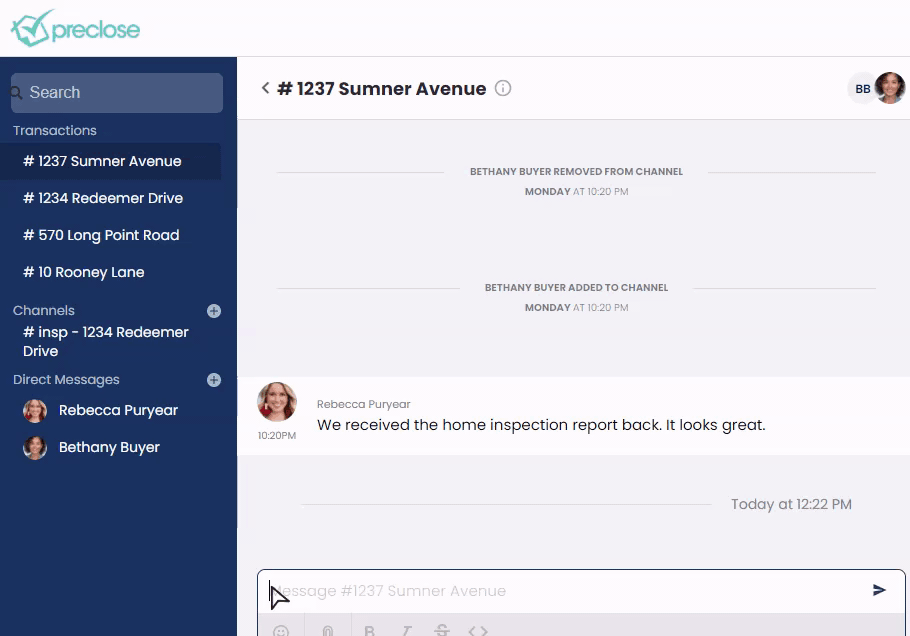 With the Chat Experience feature inside Preclose GO!, you and your real estate clients can laugh, cry or celebrate every win (or hurdle) in the transaction coordination process by instantly sharing GIFs, memes and emoji in one streamlined Slack-like channel!
5. Explain your business.


Many consumers barely understand how real estate works on their side of things, much less the agent or broker side — which might be contributing to their skepticism and lack of trust.
But if you really want to build your business, you can reap big benefits by being transparent about what you want from your SOI and why it matters to you.
If you need more reviews online, make the ask and share the impact of good reviews for your business.

Explain that you rely on referrals and why they're the best thanks you could ever hope to get from clients you've worked with.

Tell them about your network of colleagues across the country so they can help you claim that referral fee even if they move out of state.
The more your sphere of influence understands how your business works, the more empowered they'll be to help you succeed. 💪🏽
Deliver a transparent client experience with Preclose


If you really want to build transparency into your brand and business, there's no better tool to use than PrecloseGO!.
Preclose is designed to give your clients a one-of-a-kind digital home buying and selling experience. The extremely user-friendly desktop and mobile app allow you to seamlessly share information with clients, so that both clients and agents have full visibility into the closing process. You can upload documents, communicate status updates, share helpful content, and much more to create a transparent and empowering experience that your clients will rave about.
Try Preclose with a free trial today!